What People Say About Employment Practices Specialists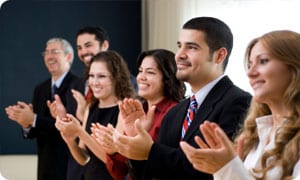 "Allison is a master at her craft! I first discovered her watching the CBS Morning Show when she was 'at the table' with Gayle and Nora. They were impressed with the work she did after the Charlie Rose firing and wanted to share the impact her training had on their organization with the world.
We began working with her shortly thereafter by piloting her Anti-Harassment training with a key group of our leaders and C-Suite executives – Allison and her content were a hit (and this is not an easy audience to impress)! Highlights of her style include integration of current events and cases which make the training relevant and timely, her straight forward model around accountability and awareness, her deep expertise and ability to handle varying levels of buy-in on a very sensitive topic and her humorous and congenial style through which she has successfully engaged employees on all levels at Live Nation. In fact, she's so engaging that there is usually a line of employees and executives wanting to connect with her 1:1 after training sessions.
Lastly, Allison is a joy to work with. She is considerate and thoughtful in her approach and highly responsive around the logistics of her training/scheduling. I would strongly recommend that any organization looking to deliver provocative and impactful Anti-Harassment training to employees to work with Allison West!"
Elizabeth A. Morrison
Former Vice President Diversity & Belonging
Live Nation Entertainment
Another great training! I was actually bummed to learn that the training was virtual because I was hoping to see you in person. No joke - I've seen your training a handful of times but it's always informative, entertaining and contains new content. I know others enjoyed it as well.
I think the virtual class was a success and is testament to your style and personality. Well done.
S. Martinez
Talent & Diversity, Golden State Warriors
Thank you for your presentation at the SHRM 2021 conference. I have been a long-time fan of yours for many years, since at least 2012.
Seriously, THANK YOU!!!! I recently had my first EEOC mediation and our employment lawyers complimented me for my documentation saying that it really helped our case. Looking back, I think I learned more from you back in 2012 than I've ever learned form any other person, so I believe I have you to thank for my recent success. Of course success is defined as coming in under budget and nowhere near what the other side originally wanted.
I hope that I have more opportunities in the future to learn from you.
Kevin P., MS HRM, SHRM-SCP, PHRca
HR Director
I just finished watching your 2019 "Documentation on Trial" presentation on the SHRM E-Learning system. I wanted to take the time to say thank you for providing a perspective on how documentation is viewed by trial juries. Among all the in-person and online HR presentations I've seen, yours was definitely one of the most informative and captivating. After working in HR for 8 years in the transportation industry, I had an opportunity recently to pursue a new role that focuses on training and compliance; I will certainly be using what I learned from your presentation when we bring our managers in for orientation or training.
A. Hoekenga, PHR, SHRM-CP
HR Generalist
Larry Blumberg & Associates, Inc.

Just a quick note to thank you for a great session at this year's PIHRA conference in Long Beach, CA.  I attended "No Witnesses, No Problem!"  It wasn't "just another investigations training,"  and I've participated in many in my 20+ years of HR work.  The presentation was new information, was not just theoretical, but practical, and shed a new light on ways in which to conduct investigations in the workplace.  I went back to the office and immediately typed up my notes, and, provided them to another department at the agency that conducts investigations.  The information was new to them, too.
I greatly appreciate your experience, your point of view, and the way in which you presented the information.
One last thing; many presenters at conferences promise to send their presentation to attendees, and you are the only one I've encountered over the years who has actually done so.  Thank you so much.  In reviewing the materials, my memory was refreshed.
I hope to attend another one of your offerings in the future.
J. Russell
Director, Human Resources
Behavioral Health Services, Inc.

You are an extraordinary educator and coach! Your insightful sessions made it very easy for me to immediately upgrade my employment compliance procedures. I always feel energized after your talks!
- Joey A. Durso, Director of HR; IPT LLC

Allison brings the ability to succinctly communicate the practical and the technical in an engaging way. Her insight and experience is invaluable. Attending one of her sessions (2019 SHRM Annual Conference) was worth the cost of the entire conference - attendees walk away immediately with insight that elevates their level of HR expertise.
- Ryant J., Director of Compensation, Benefits and Employee Relations

                    I found your session to be one of the best I have attended in my over 25 years of SHRM conferences.
- Cliff R., SPHR, SHRM-SCP, Chief Human Resource Officer, Youth Villages

"Allison is ABSOLUTELY FANTASTIC! The very best at One-On-One Sensitivity Training. Honest communication combined with interactive training motivated our employee to make the necessary changes. Allison gets results!"
- Eileen, CHRO
"Allison's training is lively and engaging. It encourages questions and discussion, which provides a deeper understanding of the principals vs. sitting at a desk completing an online training. Participation from C-level to manager and all employees speaks volumes about our company's commitment to anti-harassment and creating a place to work where everyone feels comfortable."
- Rita M., Sr. Manager, Human Resources
"For the last 5 years I've attended the HR Star conference, you have been one of my favorite speakers. Your content is always relevant and provides practical strategies vs. theory and telling us what we already know."
 - Kc M., HR Manager
"Great presentations at the HR Star conference: efficient, engaging, and extremely informative."
- Daniel G., Human Resources Generalist
"I was able to participate in the Anti-Harassment Training with Allison West. I've been with our company for many years and experienced all the styles for delivery of this material. This years was the best! Allison is a true professional who was able to deliver the content in an engaging way. From sharing anecdotes from her career, using real-world relevant examples and blunt, honest talk she delivered the appropriate messages. My session had roughly 24 people attending. Allison made a point to learn peoples' names and call on them in scenarios or exercises. I was in the front row so she was quite comfortable calling on me a few times! She understands the challenges of working in an entertainment industry. She used that knowledge and name recognition to keep us engaged.
I recognize these sessions can become costly. In my opinion it was money well spent. Thank you for the opportunity. I hope others had a similar experience so we can look forward to more in the years to come."
- Manager