Helping employers create an environment that complies with the law, and is also safe, open and most of all, productive. With experience in employment law and employment practices, EP Specialists understands the issues that arise in organizations are complex and unique, so cookie cutter solutions will not do. Why us?
Creative thinking and a hands-on-approach allow for a complete understanding of your organizational needs and goals.
Training programs that are engaging and interactive to maximize their impact,
Investigations conducted in a professional and efficient manner to assist in resolving employment disputes,
Sensitivity training focused on turning around risky behavior.
We offer solutions that work. Learn more about Allison West, view a partial client list, read testimonials from satisfied clients, and learn where you can see Allison speak on employment law and HR related topics. speaking engagements.
Allison West, Esq., SPHR, SHRM-SCP
In 2000, after practicing law at a San Francisco labor and employment boutique, Allison started Employment Practices Specialists. She uses her employment law background, coupled with sound knowledge of human resource practices and a Senior Professional in Human Resources and SHRM-SCP certification, in helping companies both prevent and resolve employment claims.
While a litigator, Allison was responsible for handling federal and state claims, wrongful discharge and work-related tort claims, developing employee handbooks, policies and procedures; and counseling clients concerning all facets of employment practices.
Allison focuses her practice on conducting workplace investigations, delivering one-on-one sensitivity training for managers and employees concerning sexual harassment, discrimination, and diversity awareness issues, coaching managers and employees with disciplinary and/or behavioral problems, providing expert witness and litigation assistance, consulting with HR departments on administrative agency charges and employee handbooks, policies and procedures, and a 24/7 employee complaint hotline.
Additionally, Allison is a sought-after trainer and speaker known for her dynamic presentation style. She specializes in developing and delivering interactive training programs in the US and internationally that address employment law and human resources issues. Allison was brought into CBS News to deliver harassment training immediately after Charlie Rose was terminated. She trains at client of all sizes and industries but nationally and internationally.
Allison is a frequent top-rated speaker at local and national events such as the Society for Human Resource Management's (SHRM) Annual Conference & Exposition where she was ranked as one of the top ten highest rated speakers at the 2018 conference. She also speaks at the HR Star Conferences in Los Angeles and San Francisco where she has been the only presenter to receive perfect evaluation scores, and the Northern California Human Resources Association HR West Annual Conference where she is consistently a top-rated presenter.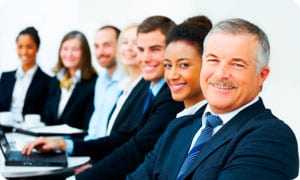 Since 2000, Employment Practices Specialists has provided services to small, medium and Fortune 500 companies. Because EP Specialists approaches each organization as a unique entity, programs and services are fully customized for maximum effectiveness.
Below is a partial list of companies who have benefited from our services:
Axcess Financial Services, Inc.
Benefit Cosmetics
Bently Holdings
BlackRock (formerly Barclays Global Investors)
California Farm Bureau Federation
Chiquita Brands LLC
Cleveland Clinic Foundation
Cobham Sensor Systems
Council On Education in Management
Coupons, Inc.
David and Lucille Packard Foundation
Daiohs First Choice Services
Diversity Leadership Alliance
DURECT Corporation
Eagle's Nest Harley Davidson
Fresh Express
Garratt-Callahan
Global Indemnity
Golden State Utility
Half Moon Bay Brewing Company
Heller Ehrman LLP
IMG
Intelisys Telecom Solutions
Jewish Community Relations Council
Kodak EasyShare Gallery
Kyocera America, Inc.
LEVEL Studios
Magic American
Matrix Semiconductor
McKesson
Medivation
Mellenox Technologies
Meyer Sound
Pacific Autism Center for Education
Portola Pharmaceuticals
RightScale
RMR Construction
RSM Equico
SanDisk
Sartorius Stedim
San Francisco Water Transit Authority
Sharp Healthcare
SmithGroup Architects
Sony
Tethys Bioscience
Trucker Huss
Zosano Pharma
EP Specialists has provided services to the following industries and sectors:
Agriculture – International and Domestic
Biotech
Education – College and local school districts
Food Marketing and Distribution
Health Care
High-Technology/Internet
Investment Banking
Labor and Trade
Local and other Governmental entities
Legal Services
Not-For-Profit
On-Line Retail
Pharmaceutical